Worship with Us
Sundays 7:45 & 9 am
All Saints Sunday

November 5, 2017

Services at 7:45 & 9 am

IntroductionMicah declares God's condemnation of those who abhor justice. Jesus warns against hypocrisy. Paul urges the Thessalonians to lead a life worthy of God. Called to be humble servants, we gather for worship, seeking justice and welcoming all people to share the banquet of life.

 
Cornerstone Concert Series
ABOUT THE CORNERSTONE CONCERT SERIES
Our initial fundraising effort, which focuses on the major restoration of our building exterior, is the Cornerstone Concert Series. The Series will feature the performances of nationally and internationally known musicians throughout the coming twelve months. Music will range from Gershwin to Antonio Vivaldi, and over the year will include piano, organ, string, brass, and vocalists.
Our 2017 Cornerstone Concert series will begin on Sunday, March 12 at 3 pm with a performance by world acclaimed organist, Jonathan Dimmock, organist with the San Francisco Symphony Orchestra.  The theme of Dimmock's concert will be "Reformation 500" a tribute to 2017 being both the 150th anniversary of the founding of First Lutheran and the 500th anniversary of the beginning of the protestant reformation.
The concert  is free and open to the public with freewill donations appreciated.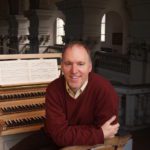 About our guest performer:
Organist, Jonathan Dimmock is well-known internationally as a recitalist, conductor, accompanist, ensemble musician, entrepreneur and writer. A graduate of Oberlin and Yale, he has the unique privilege to have been the only American Organ Scholar of Westminster Abbey; he has also served three American cathedrals: St. John the Divine (New York), St. Mark's (Minneapolis), and Grace (San Francisco). For over twelve years, he was Music Director at St. Ignatius Church in San Francisco (the largest Jesuit church in the United States) and is currently the organist for the San Francisco Symphony, Accompanist at Congregation Sherith Israel (San Francisco), Principal Organist at the California Palace of the Legion of Honor, and Organ Instructor at Sonoma State University. He is one of the few organists in the world to tour on six continents. Mr. Dimmock has recorded more than forty CDs and can be heard on the Grammy-winning San Francisco Symphony recording of Mahler's Symphony No. 8. His teachers and mentors include Olivier Messiaen, Gillian Weir, Simon Preston, Jean Langlais, Peter Hallock, Haskell Thomson, William Porter, Thomas Murray, Ton Koopman, Harald Vogel, J. Franklin Clark, Paul Halley, Naji Hakim, and Frédéric Blanc. He is co-founder of the highly acclaimed American Bach Soloists, founding director of Artists' Vocal Ensemble (AVE), and founding President of Resonance – which uses music in international conflict resolution. He is deeply committed to healing our world through the beauty of music, and talks eagerly on the subjects of spirituality, psychology, aesthetics, and the Arts.
The concerts are sponsored in part by a grant from the Massachusetts and Brockton Cultural Councils.
Concerts are free, however, donations are welcome
 For more information contact First Lutheran Church at 508-586-9021