Food for Friends Founder Dies
Many of you are aware that former member, Cheryl Ruby died on July 23 at her home in Tennessee. Cheryl was a visionary and founder of our Food for Friends Food Pantry more than ten years ago. A memorial service for Cheryl will be held here at First on Saturday, September 16 at Noon–most fittingly following the monthly distribution of food from Food for Friends. We invite all of Cheryl's friends to gather to honor her and to greet her family. A collation by Pastor's Aid will follow the service in the vestry, if you are able to assist with the collation by baking or helping in the kitchen please let Pat McAfee or Jim Benson know. Please keep Cheryl and her family in your prayers.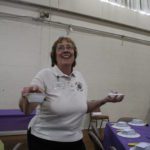 Worship with Us
Sunday - 8:30 am thru Labor Day
The Tenth Sunday After Pentecost

August 13, 2017

Services at 8:30 am ONLY for the Summer

IntroductionElijah finds the presence of God not in earthquake, wind, or fire, but in the sound of sheer silence. When the disciples face a great storm on the sea, they cry out with fear. Jesus says: "Take heart, it is I; do not be afraid." Amid the storms of life, we gather to seek the calm presence of Christ that soothes our fears. In comforting words of scripture and in the refreshing bread and cup of the eucharist, God grants us peace and sends us forth to be a sign of God's presence to others.