First Lutheran to Celebrate 150 Years
2017 is a milestone year in the history of First Lutheran Church with the congregation celebrating its 150th anniversary.  Many special events are planned throughout the year.  Among the highlight events are:
Sunday, April 23 at 3 pm  Community Celebration with Vesper Service.  Bishop James Hazelwood of the New England Synod presiding.  We invite our ecumenical partners, sister Lutheran congregations, civic leaders to join us in glorious celebration.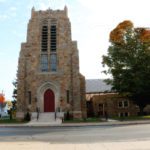 Saturday, April 29 at 3pm.  150th Anniversary Grand Concert featuring the Alliance Brass Quintet.  Free and open to all with freewill donations appreciated.
Sunday, April 30 at 10 am.  Festival Service of Celebration and Thanksgiving on the actual day of our founding.  Special guest, The Reverend Dr. Maria Erling, professor of Modern Church History and Augustana Synod historian at the Lutheran theological seminary at Gettysburg.
Worship with Us
Sunday - 7:45am & 9am
The Second Sunday in Lent

March 12, 2017

Services at 7:45 & 9 am
Introduction
During Lent we journey with all those around the world who will be baptized at the Easter Vigil. In today's gospel Jesus tells Nicodemus that he must be born of water and Spirit. At the font we are given a new birth as daughters and sons of God. As God made a covenant with Abraham, in baptism God promises to raise us up with Christ to new life. From worship we are sent forth to proclaim God's love for all the world.