Cornerstone Concert April 29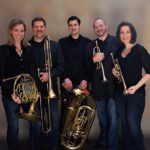 Our 2017 Cornerstone Concert series will continue on Saturday, April 29 with a Grand Concert in honor of our 150th Anniversary.  The Alliance Brass Quintet of Chicago will perform works of Freddie Mercury, Mozart, Souza, Copemland, Gershwin and others.  the concert is free and open to the public.
The concert  is free and open to the public with freewill donations appreciated.
About our guests:
Hailing from Chicago, Illinois, the Alliance Brass is "the perfect blend of virtuosity and           vitality" (Chicago Brass Festival).  Members of the ensemble have performed all over the world from Canada and Mexico to Russia, the UK, and Japan, having shared the stage with orchestras such as the Boston Symphony Orchestra, the Chicago Symphony Orchestra, and the Cleveland Orchestra.  These five virtuosos have also performed with the top chamber ensembles in the world including the Boston Brass, Synergy Brass and more.
Dazzling audiences with a repertoire ranging from the early Renaissance to jazz and beyond, the Alliance Brass is one of country's leading chamber ensembles.  During the 2014-15 concert season alone, the ensemble performed over 100 engagements, bringing audiences to their feet in over 15 states.
In addition to performance, the ensemble is equally dedicated to the education of the next generation of musicians and music-lovers alike.  The Ravinia Music Festival raves that the Alliance Brass "has the ability to engage audiences both with excitement and insight, offering a fascinating and rich musical performance".  Members of the Alliance Brass have served on faculty at some of the top music institutions including the Boston University Tanglewood Institute, DePaul University, the International Festival and Institute at Round Top, and more.  Beyond their teaching efforts, the ensemble also offers a wide range of programs designed to enhance school music programs.
Worship with Us
Sunday - 7:45am & 9am
The Third Sunday of Easter

April 30, 2017

Services at 10 am ONLY this week
150th Anniversary Service of Thanksgiving
The Reverend Dr. Maria Erling, Professor of Modern Church History at the Lutheran Seminary at Gettysburg will be our guest preacher